Greg Ellis
Sense maker. Meaning seeker. Urbane pioneer.
Ellis has acted in films opposite Oscar winners Sir Anthony Hopkins and Geoffrey Rush, been directed by Academy Award winning film directors John Schlesinger, James Cameron and Robert Zemeckis, written for Stephen Fry, directed Kiefer Sutherland, and had memorable roles in billion dollar franchise movies like the Pirates of the Caribbean series, J.J. Abrams' Star Trek and Titanic.
He was nominated for an Emmy Award® for season 3 ensemble cast of the hit tv series 24 (he portrayed the duplicitous virus broker Michael Amador), was a staple on the long running soap opera Days of Our Lives and has had series regular, recurring and guest star roles in many of the best remembered American tv series of the last few decades; The X-Files, CSI, Dexter, NCIS, Hawaii Five-O, Knight Rider and many more.
Ellis has performed leading stage roles in original Andrew Lloyd Webber and Cameron Mackintosh musicals in London's West End, solos for HRH Queen Elizabeth ll at St. Paul's Cathedral and three Royal Command Performances at Theatre Royal Drury Lane, The Dominion and The London Palladium, has performed for Prince, Michael Jackson, Princess Diana and recorded multiple albums, singles and soundtracks.
During a live interview with Kermit D Frog on the red carpet at the Pirates of the Caribbean 4 premier Ellis sang an impromptu rendition of 'Halfway Up The Stair' with the iconic muppet.
A legacy voice over actor, Ellis has voiced characters for blockbuster movies, classic cartoons, iconic animated tv series, global brand commercials, multiple action figures and toys and is one of the most prolific interactive/video voice over actors in the world having worked on over 120 video game titles.
In 2014 Ellis founded Monkey Toes Studios as a full service film, television and commercial production company based in Los Angeles. He has developed projects with Andy Garcia, Sharon Stone & Joe Pesci and associate-produced the Iain Softley directed sky television drama 'The Man' starring Hayley Atwell, Stephen Fry, Stellan Skarsgård and Zoe Wanamaker, and wrote, directed and produced the Sky TV special 'Marked,' starring Kiefer Sutherland and Stephen Fry.
When Ellis' first son was born he nicknamed him Monkey Toes which inspired the production company name.
In 2018 Ellis turned his hand to writing. He has two published books under the pen name Jonny Rees, a book of poetry called 'The Knewledge,' and a pocket oracle of philosophical quotes entitled 'NoThing In Between'. The third – 'Titanic Diaries' – a compilation of private and personal journals from 27 actors who worked on James Cameron's epic blockbuster movie Titanic, is set for release in 2019.
Alive Coaching
Over the course of his career, Ellis has been asked to coach and mentor other aspiring artists on how to succeed in the business of show. With Alive Coaching, he's started to share what he has learned with students who are committed to a career in the arts.
The core focus of the Alive Coaching model is mastery of technique (craft), activation of creative flow states (art), and exponential elevation of career trajectory (the business of show).
With Alive Coaching, Ellis hopes to share what he's learned with as many people as possible.
India
Ellis teaches phenomenology based learning in India at the Ashray Orphanage and the Parva Slum School in Jaipur and the Urwashhi Jagriti School in Udaipur.
Ellis is a student of the dialectical approach to the Phenomenology of Feelings and currently studies affect theory with epistimologist Gary David, P.h.D., co-founder of The Tomkins Institute.
The Parva Slum School helps the poorest communities in Jaipur overcome poverty and discrimination through free education and health care.
The Ashray Orphanage is the first orphanage in the state of Rajasthan for HIV infected and affected children who have been abandoned by their parents on the streets, rejected from their homes due to discrimination, parent's death or family financial problems.
Ellis competed in the La Jolla Ironman to help The Challenged Athletes Foundation and is also an active fundraiser for Children's Hospital Los Angeles having competed in their Nautica Malibu Triathlon since 2010, as well as the South Beach Triathlon in aid of St. Jude Children's Hospital since 2011. In 2013 he won the individual celebrity division.
Click Here to Watch a Video Clip from the Nautica Malibu Triathlon
Ellis has competed in the Korbel American Ski Classic for the Vail Valley Foundation as well as numerous charity golf tournaments including the FedEx Classic for St. Jude Children's Hospital, The LA Golf classic for the Screen Actors Guild Foundation, and the BMW Pro-Am which supports various charities including children's hospitals and mobile meals.
Personal Life
Born at home in Wigan, England, on March 21st, 1968, his parents named him Jonathan Rees. His friends and family called him Jonny Rees. Later in life he'd become known as Greg Ellis…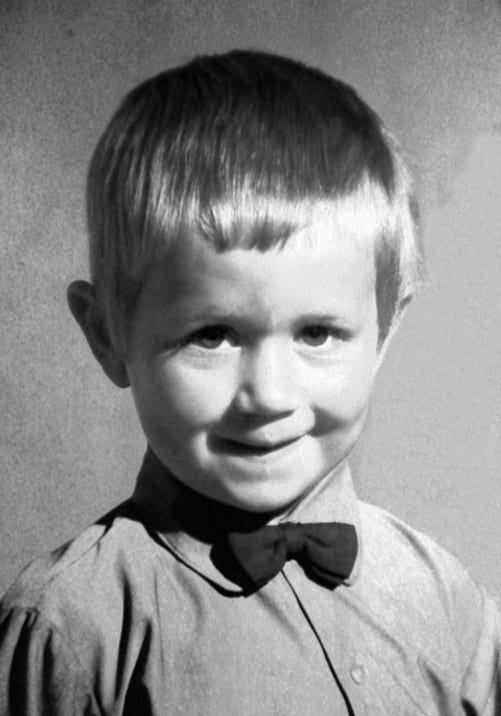 His first impromptu performance was at a family wedding in the summer of 1972.
The assembled well-wishers were in desperate need of relief from the tedium of sleep inducing speeches. The father of the bride had just completed a rather long winded eulogy and the groom was clearing his throat while nervously shuffling through his prepared notes for what seemed like an eternity.
You could cut the atmosphere with a knife. Little Jonny prepared to slice it wide open.
Seizing the moment, he climbed unnoticed atop the table, took one sharp intake of breath, and with full conviction broke the uncomfortable silence proclaiming, "We're only here for the Beer!"
It brought the house down.
When Jonny was four, his family moved to Ainsdale, a small coastal village in North West England.
Village life was quaint and pedestrian. The local community was close knit. Les the butcher, Mr. Delahunty's bike shop, the Busy Bee fish & chip shop, The Chocolate Box sweet shop; all the local village stores were run by friendly shopkeepers who everyone knew by name.
Up the coast about ten minutes north was Southport, the closest town to his small village. With its victorian promenade, bandstand and open-air swimming pool (now gone), a plethora of nursing homes, a few theatres, one funfair and a multitude of amusement arcades, the sleepy seaside resort was a working class pensioner's paradise that offered vast opportunity for misspent youth.And it was in Southport where Jonny first 'trod the boards.' At the tender age of five he took to stage of The Little Theatre to cutely coo the audience in black velvet suite with white frilly cuffs and knickerbocker britches as 'the page-boy' in the Houghton Players production of Iolanthe.
Amateur Dramatics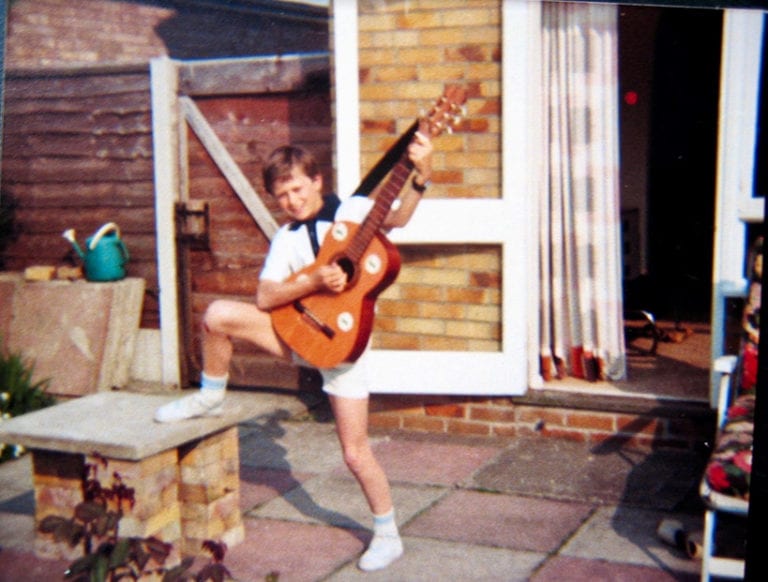 When he was nine he appeared in the Southport Amateur Operatic Society's Silver Jubilee review show with the boys chorus performing the song 'Consider Yourself' from the musical Oliver.
When the boys started asking why they weren't allowed in the next adult production, two members, Clive and Jean Morris, took note and made the decision to form a children's group. Jonny, now eleven, impressed the audition panel with a strummed and sung rendition of 'Mull of Kintyre' to become a founding member of the Southport Operatic New Generation.
Jonny attended church every week. The second floor of the humble St. Marie's. Church Hall would become his place of artistic worship and every Sunday from 2PM-5PM he'd hone his craft at rehearsals in preparation for live performances at The Southport Arts Center. The Boyfriend (Tony), Oliver (Artful Dodger), The Sound of Music (Kurt), Guys & Dolls (Nicely-Nicely Johnson) were a few of the shows he performed in.
"I owe my career in show business to my family and friends in Southport and especially the founders of SONG, Clive and Jean Morris. They remain the most influential people in my life."
Greg Ellis
Summer Season
At twelve Jonny secured his first professional job performing in a summer season at The Southport Theatre with variety artist Billy Dainty then recorded a tribute single for Prince Charles and Lady Diana's wedding, performing it live on local television.
West End
At fourteen, Jonny travelled to London to audition for the musical Bugsy Malone that Mickey Dolenz of Monkee's fame was directing at Her Majesty's Theatre in the West End. Ten thousand kids lined the chilly streets outside the Olympia Arena in Earls Court. Jonny joined the line and stood for hours in the bitter cold, got through the first round and after three more trips and four successful auditions he landed the role of Fat Sam.
Her Majesty's Theatre was his home away from home for the next few months. Three hours school tutoring in the morning, three hours rehearsals in the afternoon, eight performances six days a week left only one day off and his work schedule was about to fill up completely.
After seeing him perform in the show, the manager of the kids pop group 'Mini-Pops' on Channel 4 invited him to spend his Sundays in the recording studio cutting tracks with the group. Jonny jumped at the chance and became a full time seven days a week child performer.
Jonny Rees was born.
Greg Ellis was created.
A Stage Name
At the end of his run in Bugsy Malone he returned to Ainsdale to finish high school and attended Jean Berel's school of dance in Birkdale to study jazz, tap and modern. After a taste of the bright lights and big city and he wanted more and never lost hope he would return to the West End stage again.
Upon turning sixteen he applied to be an adult member of the actors union equity and learned that there was already an actor named Jonny Rees. He returned the membership application with twenty plus potential new names and eventually received his union card baring the professional name of Greg Ellis.
In Japanese, Kuyashii is when someone puts you down or tells you that you can't do something, then you have this burning desire to prove them wrong.
Jonny's First Kuyashii
Greg Ellis' applied to attend the prestigious Arts Educational School and took the train to London to audition. His excitement at being accepted into the school was tempered by the financial reality of the expensive tuition fees and how to pay for them. Without financial assistance from his parents he prevailed on the local council for a grant. They rejected him point blank so he called in to local radio talk show personality Alan Beswick to air his plight. Beswick's response was swift and scathing – "I don't want my taxpayer money going to help some nancy in tights learn how to prance around a stage."
Alan Beswick was Jonny's first Kuyashii.
With the deadline to procure funding fast approaching and his place at drama college in serious jeopardy, a local businessman saw him perform the role of Judas in the musical Jesus Christ Superstar and, upon hearing of his predicament, offered to pay his tuition fees.
Salvation for 'nancy in tights' — prancing on stage beckoned, at the expense of a taxpayer. Democracy in action.
'Goodbye, farewell and amen to Ainsdale, a place that shaped him and to which he has often returned. For everything he endured growing up in the village, he retains a vast reservoir of goodwill for it. 'Nancy' got her start there, and her tights, for better or worse.
To London
Greg committed to saving some money by hitching a ride some of the way to London. His exit plan was to get to the motorway and put his thumb out. Two hippies in a VW microbus pulled over and his adventure to survival in the big city began.
His first night in London was spent in the glamour of the Tottenham YMCA. Drug dealers held court in the rooms on either side of Greg's. He lay his head down on the pillow. It was hard. He reached under and pulled out a book. It was well worn with ripped pages. On the front was the title in black gothic font – 'The Occult'. Alone, just turned seventeen and a whole new world to explore he ruffled his pillow, opened the pages and prepared to become educated in the black arts…
Arts Educational School had a storied reputation. The first week was mildly exciting and new but by the second week Greg was getting itchy feet. He wasn't inspired by what he was being taught, or perhaps it was how he was being taught, or who was doing the teaching…
Dance teacher Jackie Bristow — a female Alan Beswick, who literally was a 'nancy in tights', but one who shared Beswick's contempt for human emotion — taught dance by means of maniacal negative reinforcement. She became his second Kuyashii, and the gauntlet she threw down before him was one he was determined to run…
One afternoon, having watched the class perform a dance routine for her, Bristow lined up the class against the wall then lit rip. She found any and every fault she could with not just their dance moves, technique and performance, but also her judgment spewed forth about their personalities and character, or lack thereof. Her parochial shaming ended with her revealing that an ex-pupil of the school had just landed a coveted role in a hit West End musical and that none of the class were even good enough to get an audition for the show.
That was all Greg needed to hear.
After class he telephoned the theatre in the west end where the musical was playing and asked if they were still having auditions. The pleasant chap on the phone informed him there was one morning left of open auditions the following day at 10 AM.
Greg skipped drama school the next day and by the close of business had landed a role in the musical. He never returned to Arts Educational to thank Jackie Bristow.
Thus began the professional career of Greg Ellis.